Case Report: Serial Topography Analysis After Acute Unilateral Diffuse Lamellar Keratitis
Keywords:
Diffuse lamellar keratitis
Abstract
Abstract
Significance: Diffuse lamellar keratitis (DLK) is a widely reported complication of laser in-situ keratomileusis (LASIK); however, serial topography tracking the resolution of the condition is sparse. This case illustrates the healing profile which may be expected following an episode of DLK, and the patient reassurances which may be appropriate.
Purpose: To report the topography changes and refractive resolution associated with a case of acute unilateral diffuse lamellar keratitis following bilateral femtosecond-assisted hyperopic LASIK.
Case Report: A healthy 53-year old male presented with grade two-plus diffuse lamellar keratitis (DLK) 11 days after undergoing successful bilateral wavefront optimized (Alcon, Fort Worth, USA), femtosecond-assisted hyperopic LASIK. Resolution of the DLK was achieved in three weeks with topical corticosteroids. Stabilization of the patient's topography and refractive error was observed two months after the resolution of the DLK.
Conclusions: This case suggests that improvements in corneal topography and refractive error can be expected long after the clinical signs of DLK have subsided. Corneal irregularities and residual refractive errors (usually hyperopia and astigmatism) which exist at the time of resolution on gross examination should be monitored regularly and patients may be reassured that improvements appear likely even after topical regimens have been completed.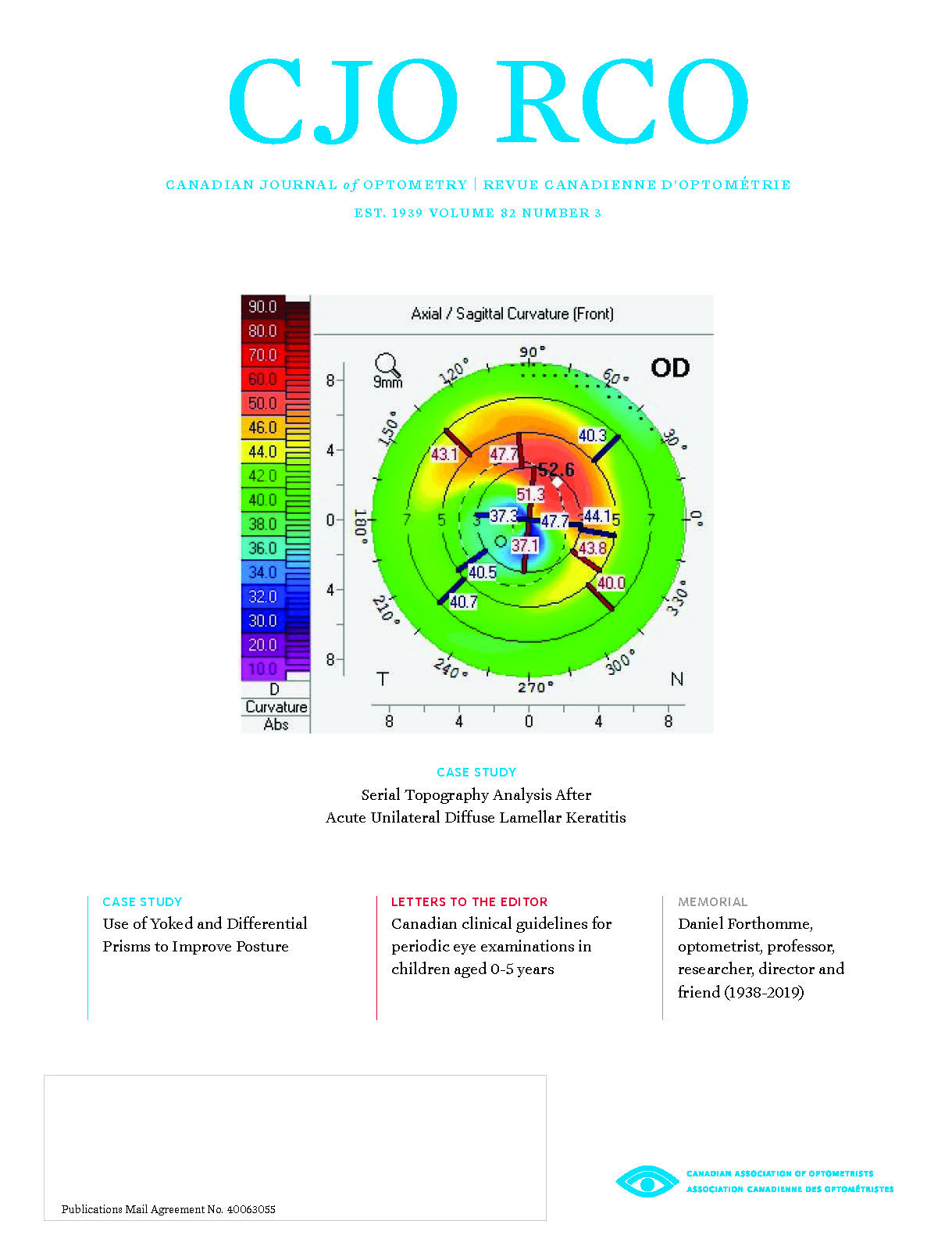 Downloads
How to Cite
Lytle, J. J. (2020). Case Report: Serial Topography Analysis After Acute Unilateral Diffuse Lamellar Keratitis. Canadian Journal of Optometry, 82(3), 19–24. https://doi.org/10.15353/cjo.v82i3.1550
Section
Clinical Research