Optometric Care of the Patient with Diabetes
Chris Hudson

BSc (Hons), PhD, MCOptom (UK), PgCUT; University og Waterloo

Dianna Leong

BSc, OD, Foresight Eyecare

Erin Loewen

BSc, OD, Village Optical

Derek MacDonald

OD, FAAO, Ilex Eye Associates

Angie Machmer

OD, Emerald Park Eye Care

Ken Mandadakis

BSc, OD, Dr. Ken Mandadakis & Associates

Henry Smit

OD, FYidoctors

Nohad Teliani

BSc, OD, Eye Care Solutions

Benoit Tousignant

OD, MSc, MPH, FAAO, University of Montreal
Keywords:
Diabetes, Diabetic retinopathy
Abstract
The Canadian Association of Optometrists (CAO) is the national voice of optometry and is dedicated to collaboratively advancing the highest standard of primary eye care through the promotion of optimal vision and eye health, in partnership with all Canadians.
Optometrists are the front line of eye health and vision care. They are experts in primary eye care and are well-positioned to help combat the vision related complications of diabetes.
CAO assembled the Diabetes Guidelines Working Group to create national guidelines on the clinical management of diabetes mellitus in an effort to further educate Canadian optometrists and assist them in the management of this chronic disease. The Working Group consists of optometrists from private practice, research and academia, chosen on the basis of their expertise, experience and representation from across Canada.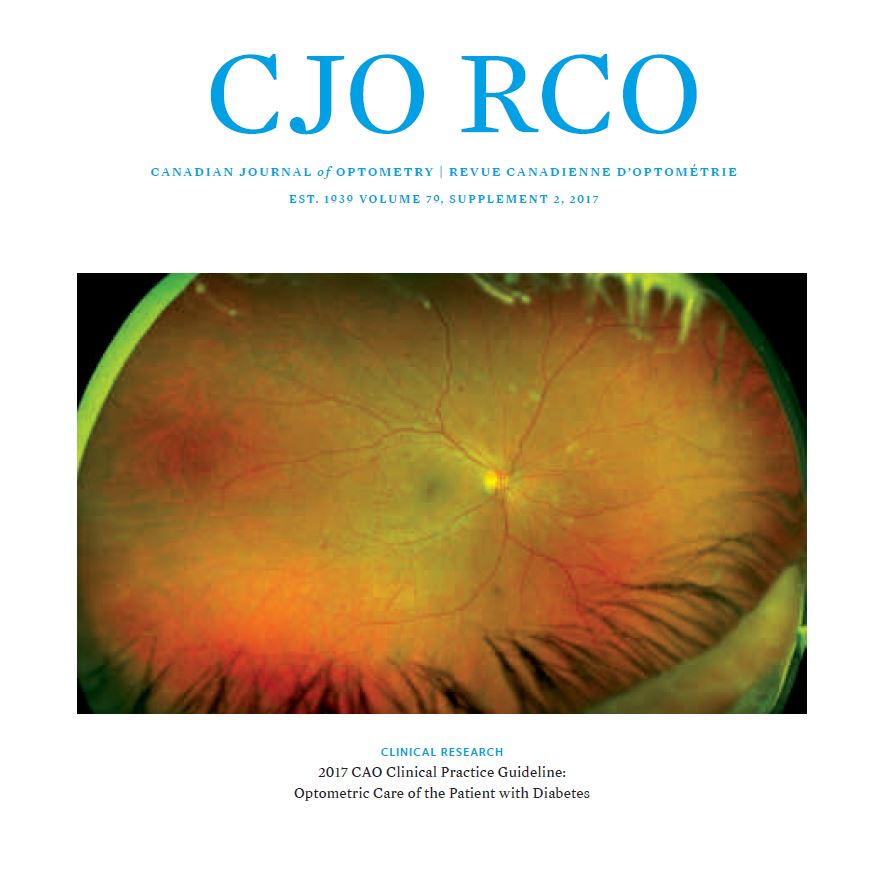 How to Cite
Hudson, C., Leong, D., Loewen, E., MacDonald, D., Machmer, A., Mandadakis, K., Smit, H., Teliani, N., & Tousignant, B. (2017). Optometric Care of the Patient with Diabetes. Canadian Journal of Optometry, 79(4). Retrieved from https://openjournals.uwaterloo.ca/index.php/cjo/article/view/1608
Section
Clinical Research