L'inévitable défi des dilemmes éthiques en optométrie, partie 3
L'optométriste, son patient et ses honoraires, un ménage à trois
Keywords:
éthique professionnelle, éthique clinique, optométrie, enjeux éthiques, dilemmes éthiques
Abstract
Certaines situations placent les professionnels de la santé face à un dilemme : deux principes éthiques entrent en conflit et aucune des décisions possibles n'est optimale. Malgré les conséquences pouvant en résulter, aucune étude ne s'était encore penchée sur les dilemmes éthiques en optométrie. Objectif. Cet article conclut une série de trois articles rapportant les résultats d'une étude dont les buts étaient d'identifier les dilemmes éthiques vécus par les optométristes et d'en décrire des scénarios typiques. Méthode. Deux cent quarante optométristes ont répondu à un questionnaire en ligne. Résultats. Un bris de confiance peut placer l'optométriste face à un dilemme quant à au maintien ou non de sa relation avec le patient. Le dilemme le plus fréquent concerne la facturation d'honoraires professionnels en surplus de ceux de l'examen de base. Plusieurs autres dilemmes éthiques sont préoccupants, dont ceux touchant les avances ou séductrices ou sexuelles de la part de la clientèle. Conclusion. De nombreux enjeux éthiques ont été identifiés et décrits. Ces résultats seront utiles aux instances académiques et professionnelles pour leur permettre de préparer les optométristes à prendre des décisions éthiques parfois difficiles.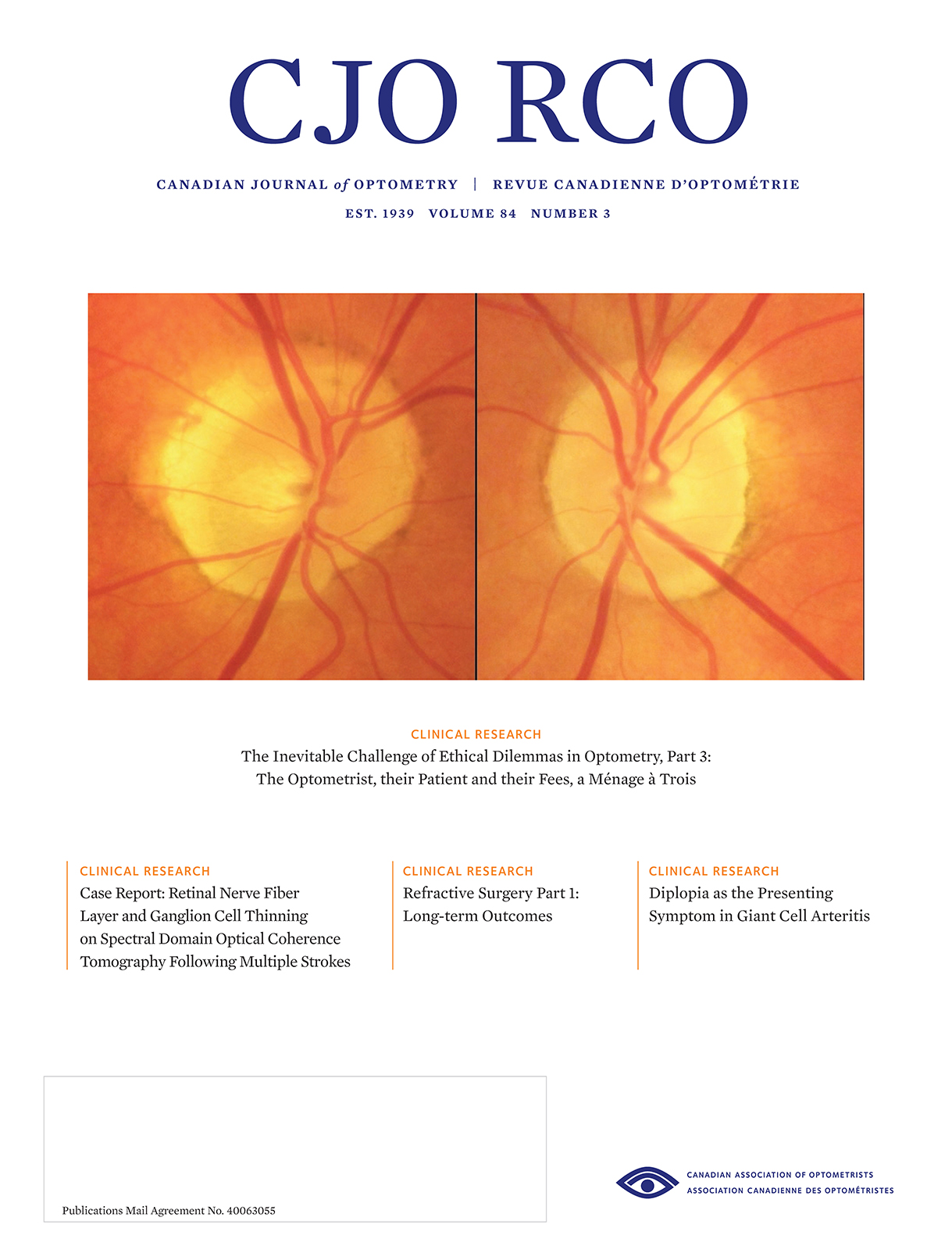 Downloads
How to Cite
Faucher, C., Rezk, M., & Verni, A. (2022). L'inévitable défi des dilemmes éthiques en optométrie, partie 3: L'optométriste, son patient et ses honoraires, un ménage à trois. Canadian Journal of Optometry, 84(3). https://doi.org/10.15353/cjo.v84i3.1794
Section
Clinical Research
License
Copyright (c) 2022 Caroline Faucher, Marina Rezk, Ariana Verni
This work is licensed under a Creative Commons Attribution-NonCommercial-NoDerivatives 4.0 International License.