Vernal Keratoconjunctivitis and its Management Challenges
Onyeahiri Collins

OD, MNOA
Keywords:
shield ulcer, giant papillae, superficial keratopathy, supratarsal injection, local concoction
Abstract
Vernal keratoconjunctivitis (VKC) is an allergic, bilateral, recurrent inflammatory disorder of the conjunctiva and the cornea that has a seasonal incidence. It affects young males more than females in age bracket of 3 to 16. In the majority of cases, symptoms resolve at puberty, but some may run into adulthood. Diagnosis is based typically on clinical signs and symptoms. The cause of the disease is not clearly known, but it is often associated with atopic diseases such as asthma or eczema and is probably due to a longstanding allergic reaction.
The disease consists clinically of the palpebral, limbal and mixed types. Its management has been a great challenge to eye care providers because of its recurrent nature, the large number of individuals who are affected, wrong diagnoses, and lack of judicious drug administration. The disease has the potential of producing serious vision-threatening complications if not adequately managed. This case report also reviews the diagnosis and management options for patients with mixed VKC and demonstrates the importance of the clinician's role in taking a careful case history and in modifying treatment when necessary throughout care.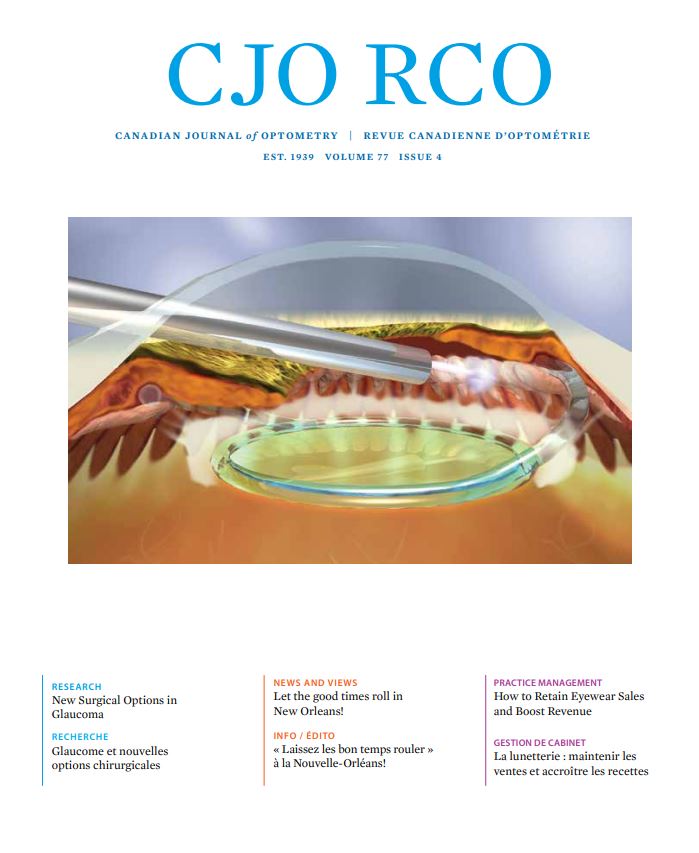 How to Cite
Collins, O. (2015). Vernal Keratoconjunctivitis and its Management Challenges. Canadian Journal of Optometry, 77(4), 19. https://doi.org/10.15353/cjo.77.486