Choroidal Confusions: A look into Pachychoroid Spectrum of Diseases
Keywords:
pachychoroid, OCT, CSCR, choroid, fundus autofluorescence
Abstract
ABSTRACT 
A 59-year-old African American male presented for a comprehensive eye examination. His pertinent ocular history was extensive and included a past occurrence of Central Serous Chorioretinopathy (CSCR) in the left eye (OS), presumed macular toxicity of the right eye (OD) due to Plaquenil therapy for Rheumatoid Arthritis, and presumed Advanced-stage Dry Age-related Macular Degeneration (ARMD) of both eyes. Stargardt's Disease was also listed as a differential diagnosis for the patient under his ocular history. Upon clinical review and additional ancillary testing, we determined the patient did not have Macular Degeneration, Stargardt's, or Plaquenil toxicity, and rather, fell into the category of a pachychoroid disease. Pachychoroid spectrum is often overlooked by clinicians as it is a group of conditions and therefore can masquerade several commonly thought of diseases, such as ARMD, Bull's eye maculopathy, and Stargardt's Disease. The use of Optical Coherence Tomography (OCT) and Fundus Autoflourescent (FAF) photography helps in distinguishing between these differentials to rule-in a pachychoroid disease. Understanding these conditions can help avoid misdiagnoses  and allow for more appropriate management of our patients. 
References
Yap, Joel. "Pachychoroid Spectrum: A Closer Look." Retina Specialist, 1 Oct. 2018, www.retina-specialist.com/article/pachychoroid-spectrum-a-closer-look.
Nickla, Debora L, and Josh Wallman. "The multifunctional choroid." Progress in retinal and eye research vol. 29,2 (2010): 144-68. doi:10.1016/j.preteyeres.2009.12.002
Norris, B., Henney, S., & Weidmayer, S. (2017, August). Time to Update Your Plaquenil Screening Protocols. Retrieved from https://www.revieweducationgroup.com/ce/time-to-update-your-plaquenil-screening-protocols
"Chair-Side Reference: Pachychoroid Disease Spectrum" Center for Eye Health
Pitcher, J. D., MD, & Hsu, J., MD. (2014, July 07). CSCR: Diagnosis and treatment. https://www.reviewofophthalmology.com/article/cscr-diagnosis-and-treatment.
Sepah, Yasir J et al. "Fundus autofluorescence imaging: Fundamentals and clinical relevance." Saudi journal of ophthalmology: official journal of the Saudi Ophthalmological Society vol. 28,2 (2014): 111-6. doi:10.1016/j.sjopt.2014.03.008
Lee, Jessica G, and Richard B Rosen. "Newest Applications of Enhanced-Depth Imaging and Swept-Source Optical Coherence Tomography." Retinalphysician.com, 1 Mar. 2017,
Hussain, Rehan & Ciulla, Thomas & Berrocal, Audina et al., (2018). Stargardt macular dystrophy and evolving therapies. Expert Opinion on Biological Therapy. 18. 10.1080/14712598.2018.1513486.
"Autofluorescence". Opticianonline.Net, 2021, https://www.opticianonline.net/cet-archive/4631. Accessed 8 June 2021.
Boyer, David S. MD; Schmidt-Erfurth, Ursula MD et al., THE PATHOPHYSIOLOGY OF GEOGRAPHIC ATROPHY SECONDARY TO AGE-RELATED MACULAR DEGENERATION AND THE COMPLEMENT PATHWAY AS A THERAPEUTIC TARGET, Retina: May 2017 - Volume 37 - Issue 5 - p 819-835doi: 10.1097/IAE.0000000000001392
Kirkpatrick, Christopher. "Bull's-Eye Maculopathy Due to Hydroxychloroquine Toxicity." EyeRounds.org, 29 June 2015, webeye.ophth.uiowa.edu/eyeforum/atlas/pages/hydroxychloroquine-toxicity/index.htm.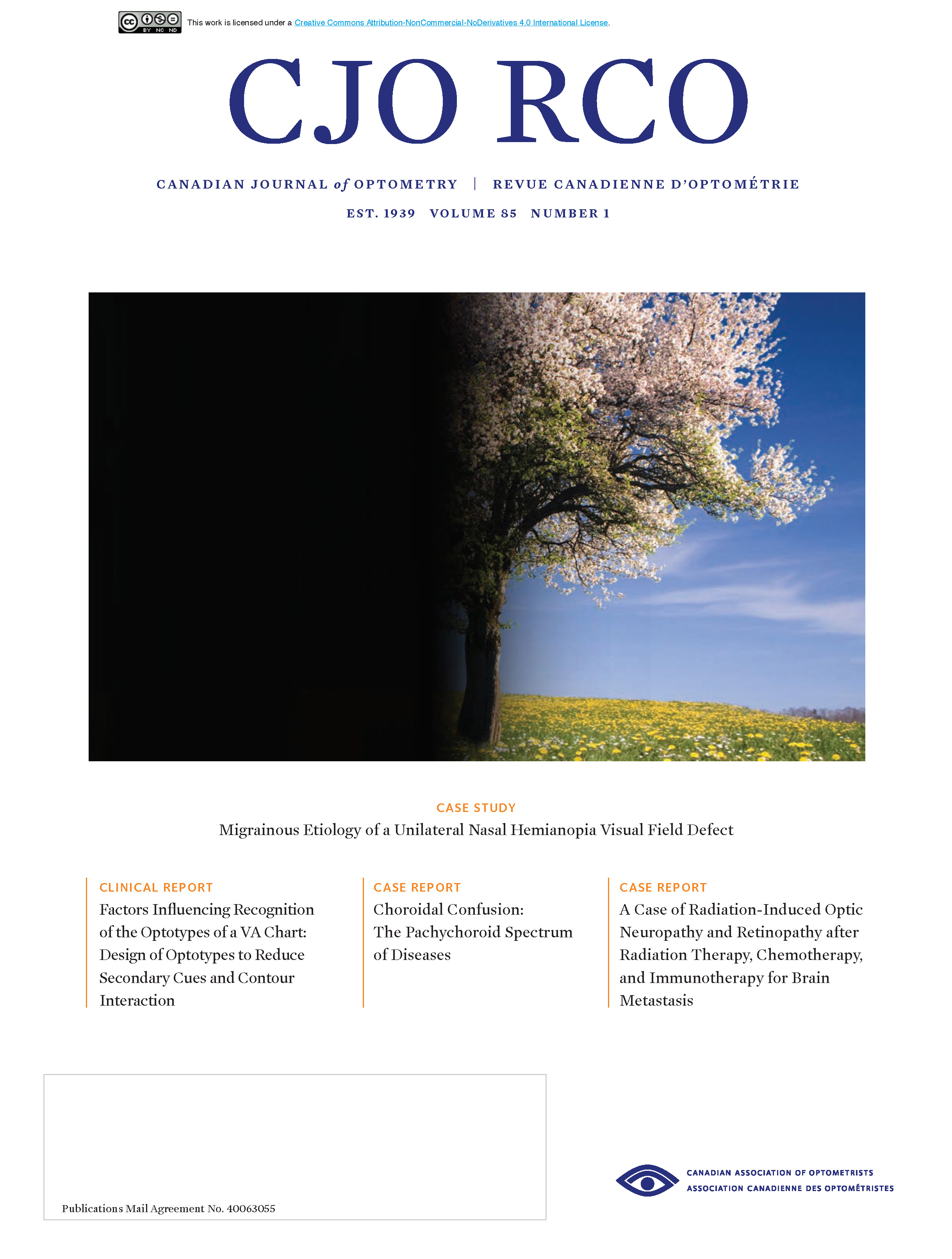 Downloads
How to Cite
Panchal, S., Acharya, R., & Saucedo, E. (2023). Choroidal Confusions: A look into Pachychoroid Spectrum of Diseases. Canadian Journal of Optometry, 85(1), 61–66. Retrieved from https://openjournals.uwaterloo.ca/index.php/cjo/article/view/4927
Section
Clinical Research
License
Copyright (c) 2023 Dr. Sonia Panchal , Dr. Rajni K. Acharya, Dr. Erika Saucedo
This work is licensed under a Creative Commons Attribution-NonCommercial-NoDerivatives 4.0 International License.