Rapport de cas : Une présentation atypique de la rétinopathie externe occulte zonale aiguë (acute zonal occult outer retinopathy, AZOOR)
Abstract
La rétinopathie externe occulte zonale aiguë (AZOOR) est une maladie inflammatoire rare qui est considérée comme faisant partie du spectre du syndrome des taches blanches et qui peut être attribuable à des causes virales ou auto-immunes. Les signes et les symptômes peuvent inclure des scotomes, des photopsies persistantes et une perte de vision potentielle. Le problème se présente généralement de façon unilatérale chez les jeunes femmes de race blanche dont les signes du fond de l'œil sont minimes ou absents, ce qui entraîne un diagnostic ambigu ou tardif. Ce rapport décrit une présentation atypique de l'AZOOR avec aspect bilatéral et dépôts rétiniens focaux chez une femme noire d'âge moyen. Un examen complet de la condition est présenté, y compris les résultats de la pathophysiologie, du traitement et de l'imagerie multimodale.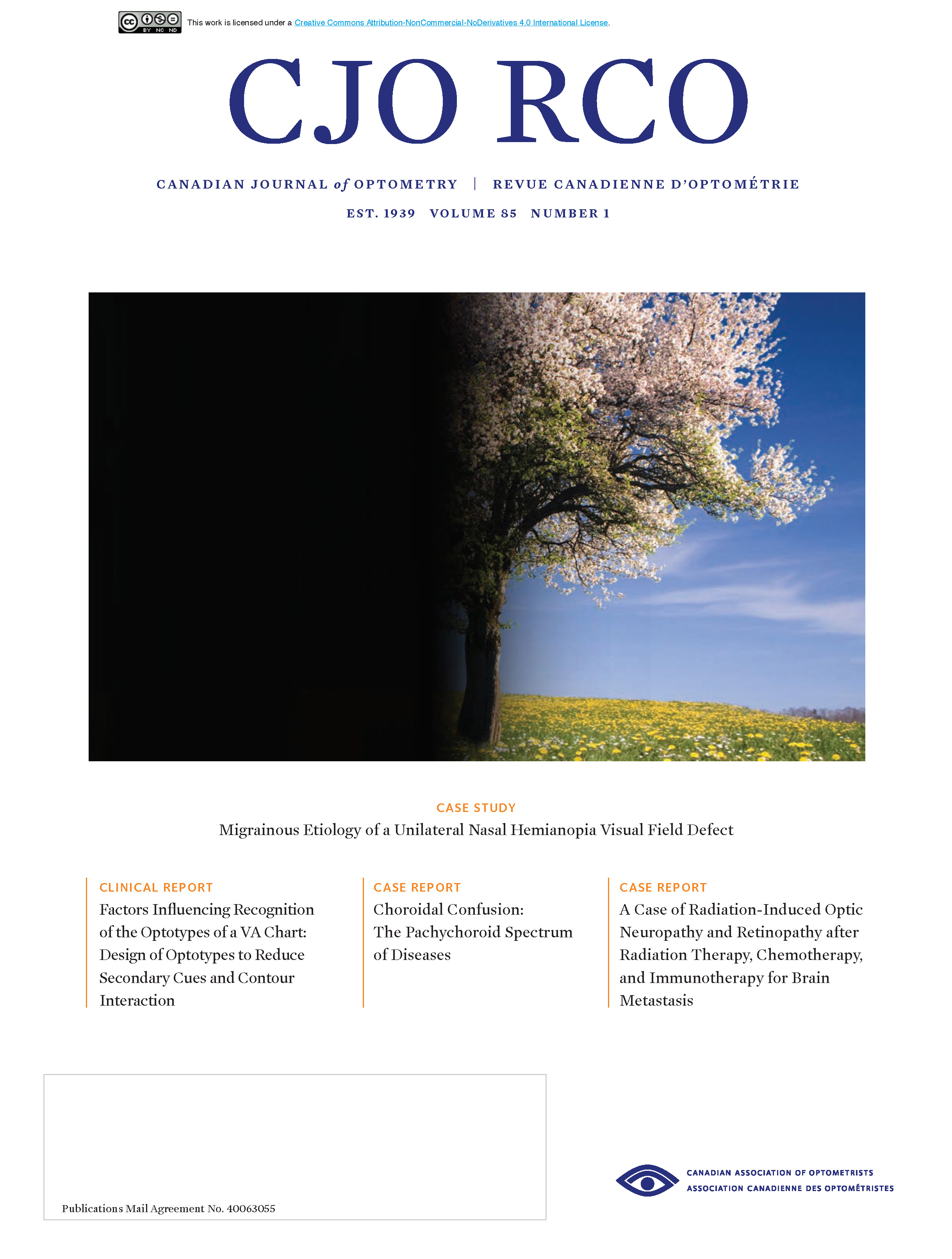 Downloads
How to Cite
Bhakhri, R. (2023). Rapport de cas : Une présentation atypique de la rétinopathie externe occulte zonale aiguë (acute zonal occult outer retinopathy, AZOOR) . Canadian Journal of Optometry, 85(1), 101–108. Retrieved from https://openjournals.uwaterloo.ca/index.php/cjo/article/view/5285
Section
Clinical Research
License
Copyright (c) 2023 Raman Bhakhri
This work is licensed under a Creative Commons Attribution-NonCommercial-NoDerivatives 4.0 International License.