Conjunctival trauma following inadvertent use of nail glue containing cyanoacrylate, leads to patient education pamphlet
Keywords:
nail glue, ocular trauma, cyanoacrylate, patient education
Abstract
Similarities in packaging, bottle size and cap design of nail glue with ophthalmic products has led to patient confusion and inadvertent use of nail glue causing ocular trauma both in the adult and pediatric population. Despite efforts and pressures from several reports, little has been achieved with respect to unregulated health and beauty products. This case report describes a conjunctival trauma caused by inadvertent use of nail glue and highlights the importance of patient education. Basic precautions, such as reading the label of ophthalmic medication under proper lighting and with adequate correction coupled with the segregation of ophthalmic products from others in the medicine cabinet, could prevent ocular injury. To this end, an awareness pamphlet has been created to bring further awareness to this issue.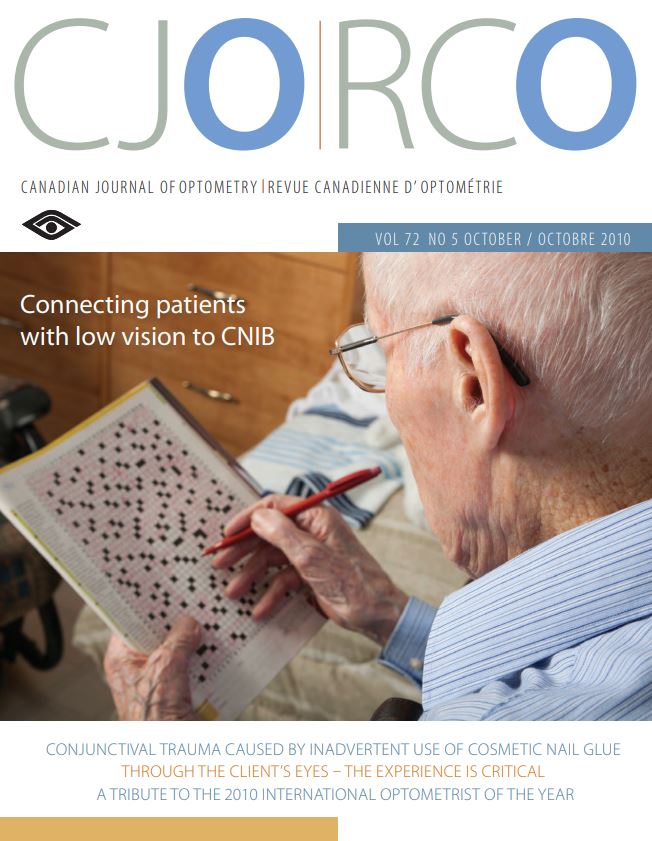 Downloads
How to Cite
Bitton, E. (2010). Conjunctival trauma following inadvertent use of nail glue containing cyanoacrylate, leads to patient education pamphlet. Canadian Journal of Optometry, 72(5), 19. https://doi.org/10.15353/cjo.72.611