Evaluating the inclusion of Inuvialuktun place names in online maps
Keywords:
Toponyms, Place names, Inuvialuit, Inuvialuit Settlement Region, Inuvialuktun, Indigenous Knowledge, Tuktoyaktuk
Abstract
Place names, also known as toponyms, are a fundamental part of our cultural and geographical environment. Like many Indigenous groups, Inuvialuit in what is now northwestern Canada use place names to describe the landscape, guide and warn travellers, and convey important cultural information (Hart 2011, 9). Many efforts are underway to document, restore and promote the use of Indigenous toponyms in Canada, including their submission to provincial and territorial naming authorities (Inuit Heritage Trust 2016). A related means of raising the profile of Inuvialuit place names is their inclusion on maps that are readily accessible to the public. In their ten calls to action for natural science researchers working in Canada, Wong et al. (2020) underscore the need for Indigenous place names to be incorporated, with permission, in maps and text associated with scientific research to recognize the stories and Indigenous Knowledge behind the names (777). This paper is a step in addressing this call to action by presenting the results of an analysis of Inuvialuktun-language place names in the Tuktoyaktuk area. The analysis examines how readily the names are identified in official, and popular non-official sources and discusses implications for promoting Indigenous Knowledge more broadly.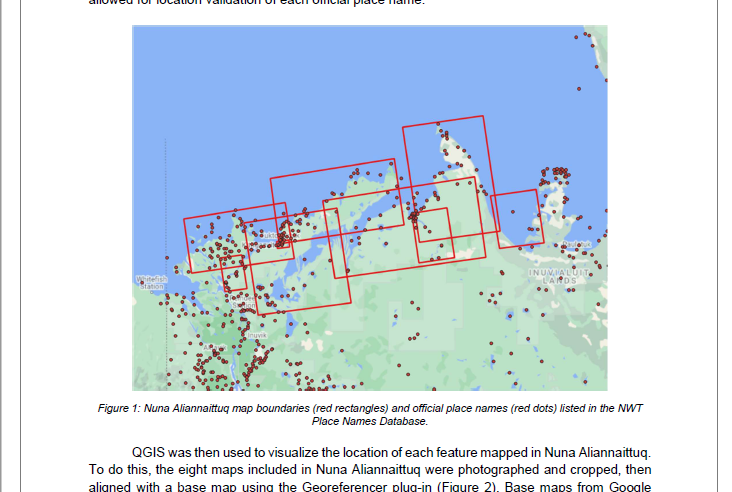 Downloads
How to Cite
Simpkin, S. (2023). Evaluating the inclusion of Inuvialuktun place names in online maps. Bulletin - Association of Canadian Map Libraries and Archives (ACMLA), (172), 7–18. https://doi.org/10.15353/acmla.n172.5453
License
Copyright (c) 2023 Sarah Simpkin
This work is licensed under a Creative Commons Attribution-NonCommercial 4.0 International License.
Authors retain the copyright to their work by using Creative Commons licenses.  The Creative Commons Attribution-NonCommercial license applies to all content unless authors elect to choose a more restrictive license for their work. If you reuse the content, you must give appropriate credit; you may not use or redistribute the material for commercial purposes.