A case of open angle glaucoma secondary to Posner-Schlossman Syndrome
Andrew J. Rixon, OD, FAAO

Southern College of Optometry

Rebecca A. Wenig, OD

Southern College of Optometry

Brittany N. Rigdon, OD

Southern College of Optometry
Keywords:
Posner Schlossman syndrome, open angle glaucoma, cytomegalovirus, intraocular pressure, trabeculitis
Abstract
This is a case report demonstrating appropriate diagnosis and management of PSS and its possible sequelae. Posner-Schlossman Syndrome is characterized by recurrent, unilateral attacks of significantly increased intraocular pressure. The etiology and pathophysiology of this condition remains unclear. Duration of this chronic condition and the risk of developing secondary open angle glaucoma are directly proportional. The patient and managing optometrist must be aware of the necessity of timely intervention during acute attacks, as well as adherent longitudinal care to preserve function and quality of life. The ensuing case report and review underscores the impact of this disease.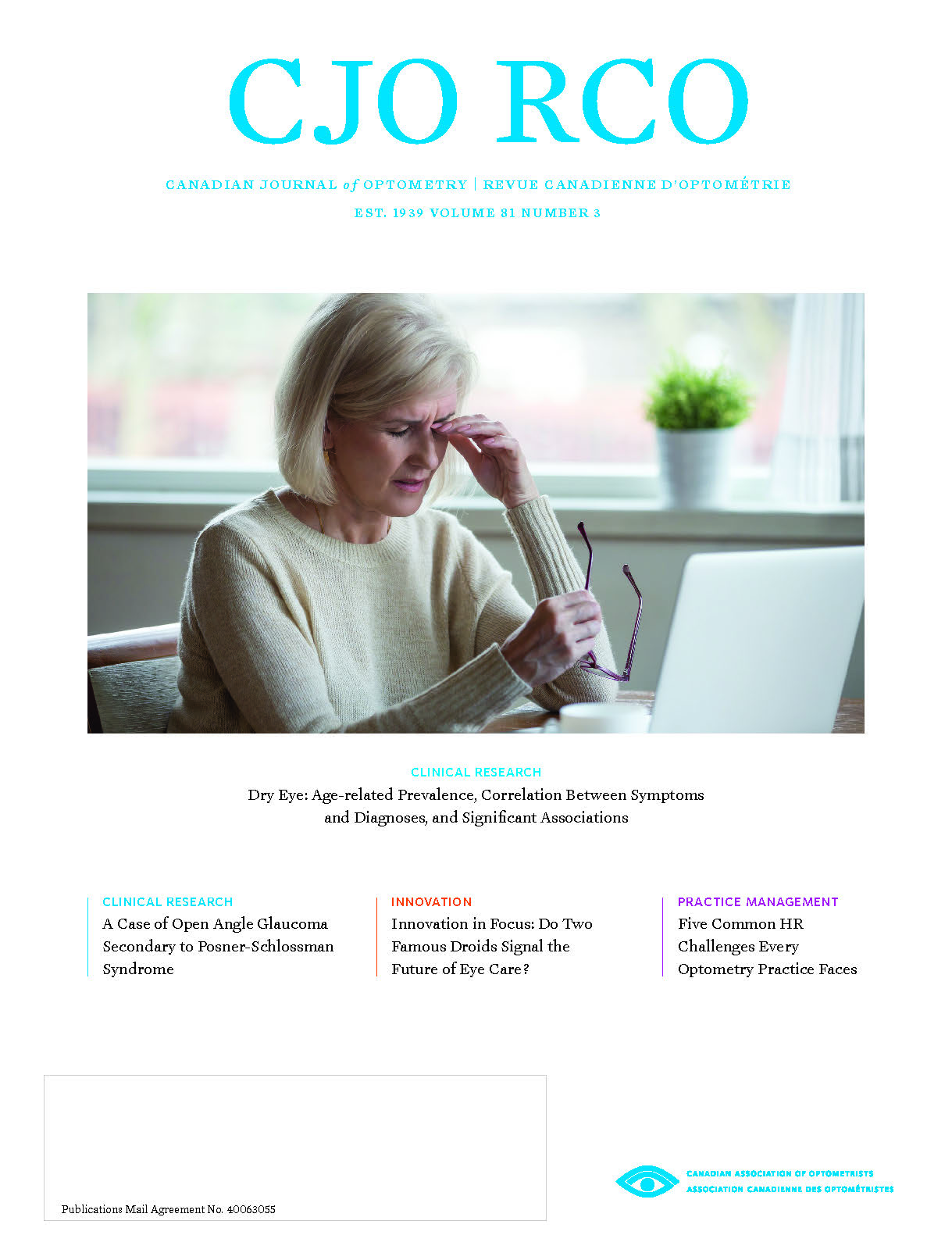 How to Cite
Rixon, A., Wenig, R., & Rigdon, B. (2019). A case of open angle glaucoma secondary to Posner-Schlossman Syndrome. Canadian Journal of Optometry, 81(3), 29-38. https://doi.org/10.15353/cjo.v81i3.1336
Copyright (c) 2019 Andrew J. Rixon, OD, FAAO, Rebecca A. Wenig, OD, Brittany N. Rigdon, OD
This work is licensed under a Creative Commons Attribution-NonCommercial-NoDerivatives 4.0 International License.