Un cas de glaucome à angle ouvert consécutif au syndrome de Posner-Schlossman
Andrew J. Rixon, OD, FAAO

Rebecca A. Wenig, OD

Brittany N. Rigdon, OD
Keywords:
Syndrome de Posner-Schlossman, glaucome à angle ouvert, cytomégalovirus, pression intraoculaire, trabéculite
Abstract
Cette observation clinique présente le diagnostic et la prise en charge appropriés du syndrome de Posner-Schlossman (SPS) et de ses séquelles possibles. Le SPS se caractérise par des poussées unilatérales et récurrentes de pression intraoculaire fortement accrue. Bien que l'étiologie et la pathophysiologie de cette maladie chronique demeurent incertaines, sa durée est directement corrélée au risque de développer un glaucome secondaire à angle ouvert. Le patient et l'optométriste responsable doivent être conscients de la nécessité d'une intervention en temps opportun pendant les poussées aiguës, ainsi que du respect des soins longitudinaux pour préserver la fonction et la qualité de vie. Cette observation clinique et cet examen de cas soulignent l'impact de cette maladie.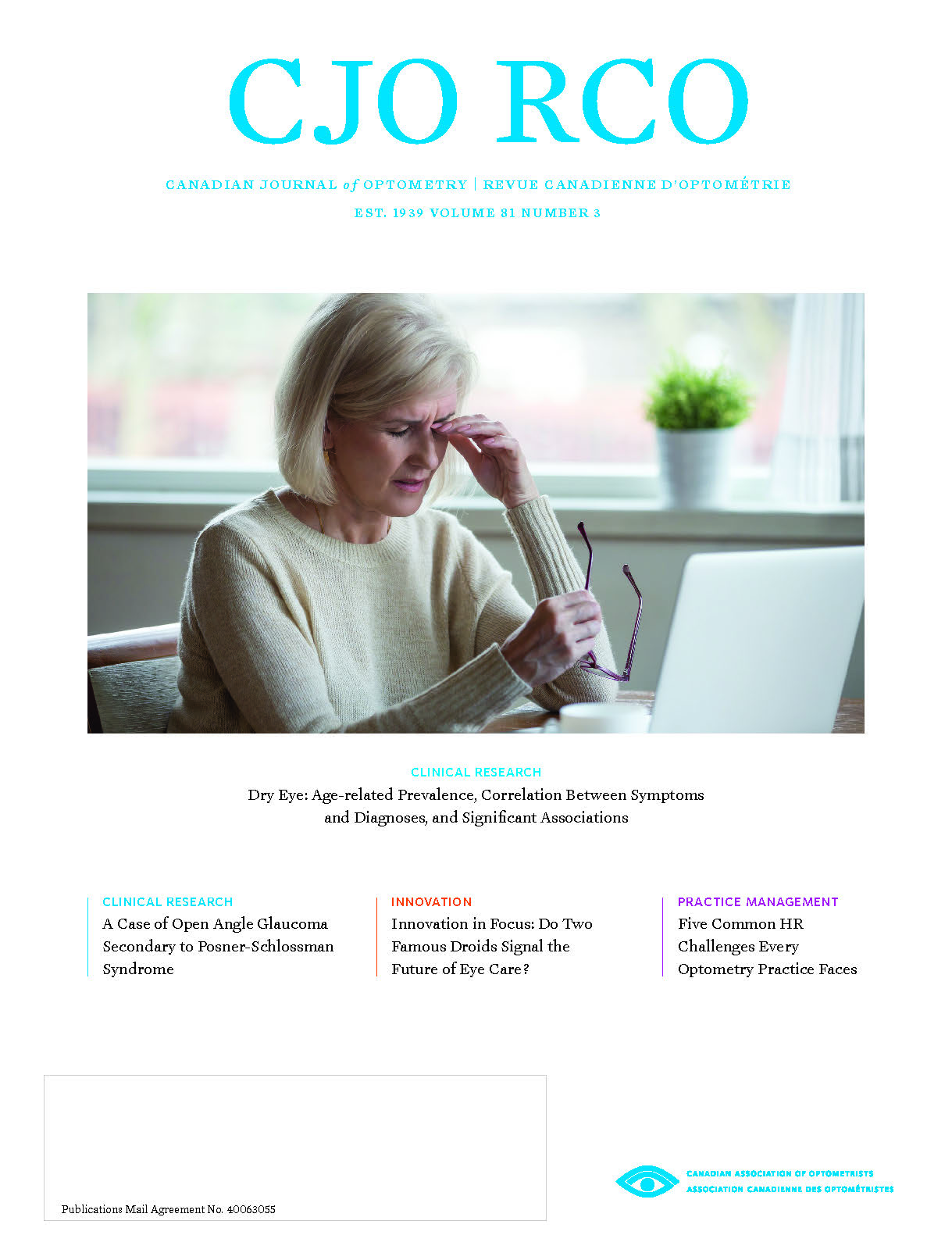 How to Cite
Rixon, A., Wenig, R., & Rigdon, B. (2019). Un cas de glaucome à angle ouvert consécutif au syndrome de Posner-Schlossman. Canadian Journal of Optometry, 81(3), 39-48. https://doi.org/10.15353/cjo.v81i3.1561
Copyright (c) 2019 Andrew J. Rixon
This work is licensed under a Creative Commons Attribution-NonCommercial-NoDerivatives 4.0 International License.