Survey of Occupational Musculoskeletal Pain and Injury in Canadian Optometry
Keywords:
Occupational, - Musculoskeletal, MSK, Pain, Injury, Ergonomics
Abstract
Objective:
A growing concern in optometry is the incidence and prevalence of occupational musculoskeletal (MSK) pain and injury, with no studies assessing Canadian professionals. However, the risk of work-related MSK pain in optometry has become widely recognized by the profession and literature as having a negative impact on the health and careers of optometrists. The goal of this study was to quantify prevalence and location of MSK pain in Canadian optometrists and estimate practices that may be associated with MSK issues.
Methods:
A voluntary, internet-based survey (SurveyMonkey Inc., San Mateo, CA, United States) was distributed to all optometrists registered with the Canadian Association of Optometry (CAO). Survey questions were adapted from the literature to identify the prevalence and significance of work-related MSK issues.
Results:
One-hundred-twenty-one optometrists, with a response rate of 2.4%, and 169 ophthalmologists, with a response rate of 17% participated in a voluntary internet-based survey. When asked if they had experienced pain attributed to their work in the last 12 months, 61% of optometry responders said "yes", compared to 50% of ophthalmology responders (p=0.06). Shoulder pain was reported in 41% of optometry responders, lower back pain in 37% and neck pain in 34%. This was compared to 28% (p=0.02), 36% (p=0.90) and 46% (p=0.04) respectively in ophthalmology responders. Optometry respondents most commonly attributed MSK pain to "performing the same task over and over", "working in the same position" and "slit lamp exams".
 Conclusion:
Many of the eye-care responders in our study were impacted by work-related MSK pain. The prevalence, location and severity of pain were similar to findings in other literature. More research is needed to determine best practices for prevention and solution of MSK pain among eye-care professionals.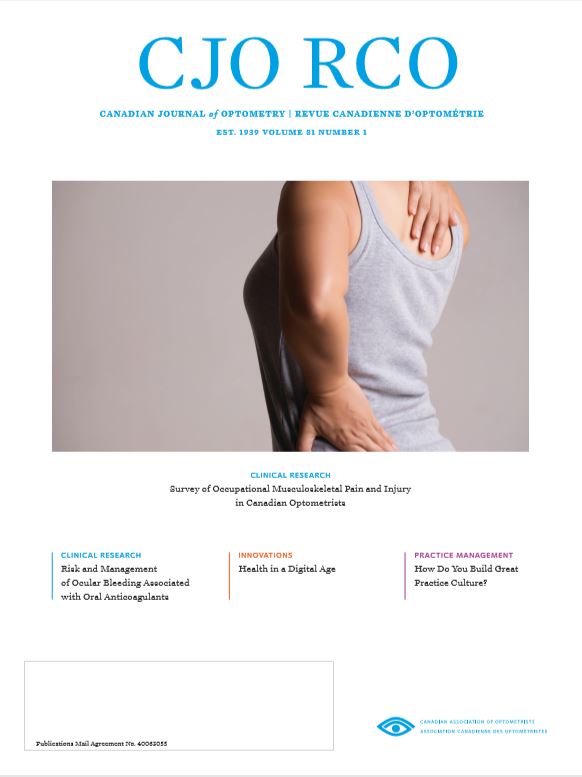 Downloads
How to Cite
Uhlman, K., Diaconita, V., Mao, A., & Mather, R. (2019). Survey of Occupational Musculoskeletal Pain and Injury in Canadian Optometry. Canadian Journal of Optometry, 81(1), 9–15. https://doi.org/10.15353/cjo.81.356