Risk and management of ocular bleeding associated with oral anticoagulants
Len V Koh, OD, PhD, FAAO

Mann-Granstaff VA Medical Center

Chad E Gosnell, OD, FAAO

Mann-Granstaff VA Medical Center

Anna R Well, OD, FAAO

Mann-Granstaff VA Medical Center
Keywords:
ocular bleeding, anticoagulants, primary care
Abstract
Deep vein thrombosis, pulmonary embolism, ischemic stroke and myocardial infarction are the major thromboembolic diseases which affect millions of North Americans. Most of these patients are managed long term with oral anticoagulants that can increase the risk of bleeding including ocular hemorrhages. As primary eye care providers, optometrists do encounter patients presenting with ocular bleeding secondary to oral anticoagulants. This article provides an overview and update of oral anticoagulants, and discusses ways to manage ocular bleeding associated with oral anticoagulants via two clinical cases. Interruption of anticoagulation temporarily increases thromboembolic risk, and continuing anticoagulation increases the risk of bleeding, both scenarios adversely affect patient's overall health. Eye care providers must work closely with primary care provider and/or anticoagulation team to come up with the best decision on an individual patient basis with respect to each ocular bleeding occurrence.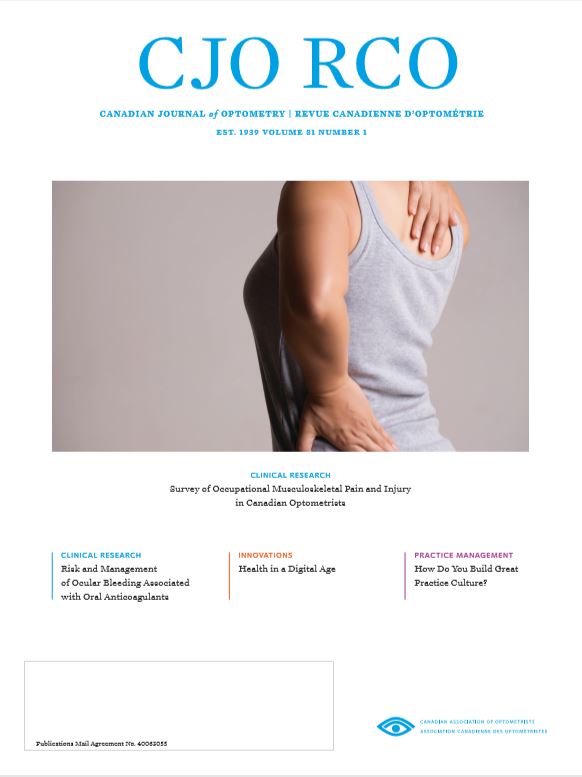 How to Cite
Koh, L., Gosnell, C., & Well, A. (2019). Risk and management of ocular bleeding associated with oral anticoagulants. Canadian Journal of Optometry, 81(1), 25-33. https://doi.org/10.15353/cjo.81.370
Copyright (c) 2019 Len V Koh, OD, PhD, FAAO, Chad E Gosnell, OD, FAAO, Anna R Well, OD, FAAO
This work is licensed under a Creative Commons Attribution-NonCommercial-NoDerivatives 4.0 International License.