Dry Eye
Age-related prevalence, correlation between symptoms and diagnoses, and significant associations
Carolyn M. Machan, OD, MSc

School of Optometry & Vision Science, University of Waterloo

Patricia K. Hrynchak, OD, MSc, FAAO

School of Optometry & Vision Science, University of Waterloo

Elizabeth L. Irving, OD, PhD, FAAO

School of Optometry & Vision Science, University of Waterloo
Keywords:
dry eye diagnosis, dry eye symptoms, meibomian gland dysfunction, prevalence, risk factors
Abstract
This study determined the prevalence of dry eye (DE) symptoms and clinical diagnosis over the age range of the human lifespan, the correlation of symptoms with diagnosis, and factors associated with DE. Data was abstracted from WatES, a retrospective file review (n=6397) of patient examinations at the University of Waterloo Optometry Clinic. The prevalence of DE symptoms and diagnosis were determined overall, in five year age groups and for individual symptoms. Using logistic regression, each symptom was analyzed for a significant association with DE diagnosis. Ocular and systemic factors, and common medications were analyzed for association with DE symptoms or diagnosis. Of all patients (0-93 years) 543 (8.5%) presented with DE symptoms. Prevalence within age groups was greatest for patients 30<35 (11.4 %) and 75<80 years (13.7 %). DE was diagnosed in 1140 patients (17.8%). Prevalence increased by 3.0% per year of age. No sex-related differences in meibomian gland dysfunction as a function of age were found. Less than half (43.5%) of symptomatic patients were diagnosed with DE. The following symptoms were associated with a DE diagnosis: dryness (OR= 7.56, 5.30-10.77 95% CI), injection (OR=3.62, 2.04-6.43 95%CI), burning/stinging/soreness (OR=2.67, 1.69-4.23 95%CI), and watery eyes/tearing (OR=1.66, 1.12-2.45 95%CI). Anterior blepharitis (OR=2.46, 2.05-2.95), being female (OR=1.24, 1.06-1.40 95%CI), contact lens wear (OR=1.34, 1.06-1.70 95%CI), and environmental allergies (OR=1.18, 1.00-1.41 95% CI) were statistically associated with a diagnosis of DE. In summary, specific presenting symptoms predicted DE diagnosis, DE was diagnosed in patients of all ages, and its prevalence increased steadily with age.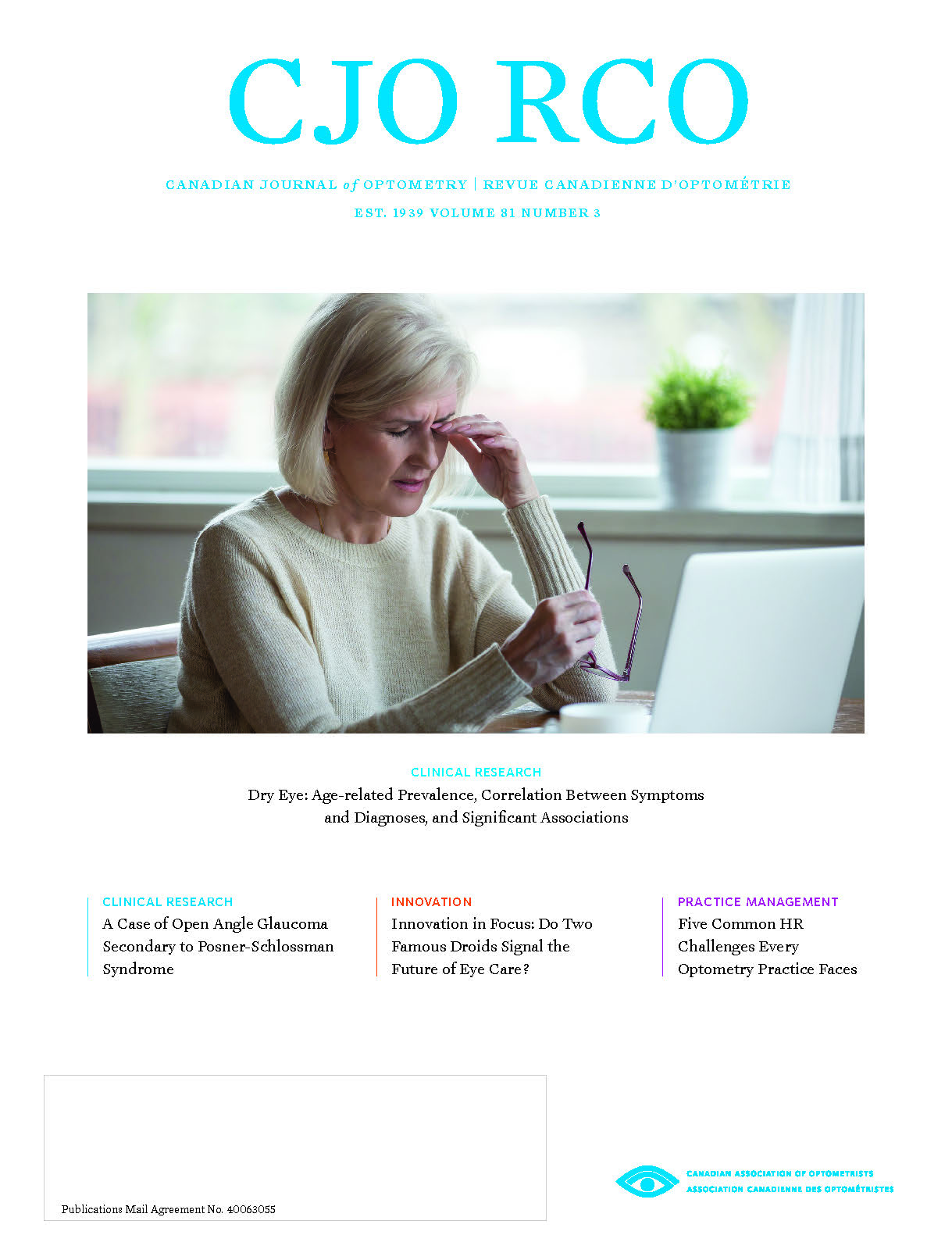 How to Cite
Machan, C., Hrynchak, P., & Irving, E. (2019). Dry Eye. Canadian Journal of Optometry, 81(3), 9-17. https://doi.org/10.15353/cjo.v81i3.408
Copyright (c) 2019 Elizabeth L. Irving, OD, PhD, FAAO, Patricia K. Hrynchak, OD, MSc, FAAO, Carolyn M. Machan, OD, MSc
This work is licensed under a Creative Commons Attribution-NonCommercial-NoDerivatives 4.0 International License.