Facteurs influant sur la reconnaissance des optotypes du tableau d'examen d'acuité visuelle Conception d'optotypes pour réduire les indices secondaires et l'interaction de contour
Abstract
Sommaire
 Outre la taille des optotypes utilisés, l'interaction de contour, les indices secondaires, le comportement psychodynamique du patient, son expérience antérieure et les différences culturelles sont tous des facteurs pouvant influer sur les résultats d'un examen de l'acuité visuelle.
  Dans le cadre de cet essai, nous avons comparé le taux de reconnaissance associé à un tableau de lettres standard à celui d'optotypes proposés fondés sur des chiffres. Le tableau standard de « C » a servi de point de référence pour la comparaison. Nous décrirons également un tableau d'ondulations qui améliore le résultat par rapport à des tableaux de « C » et de « E » qui présentent des indices secondaires. Ce tableau examine l'acuité visuelle méridionale et peut être utilisé auprès de patients qui ne s'expriment pas verbalement.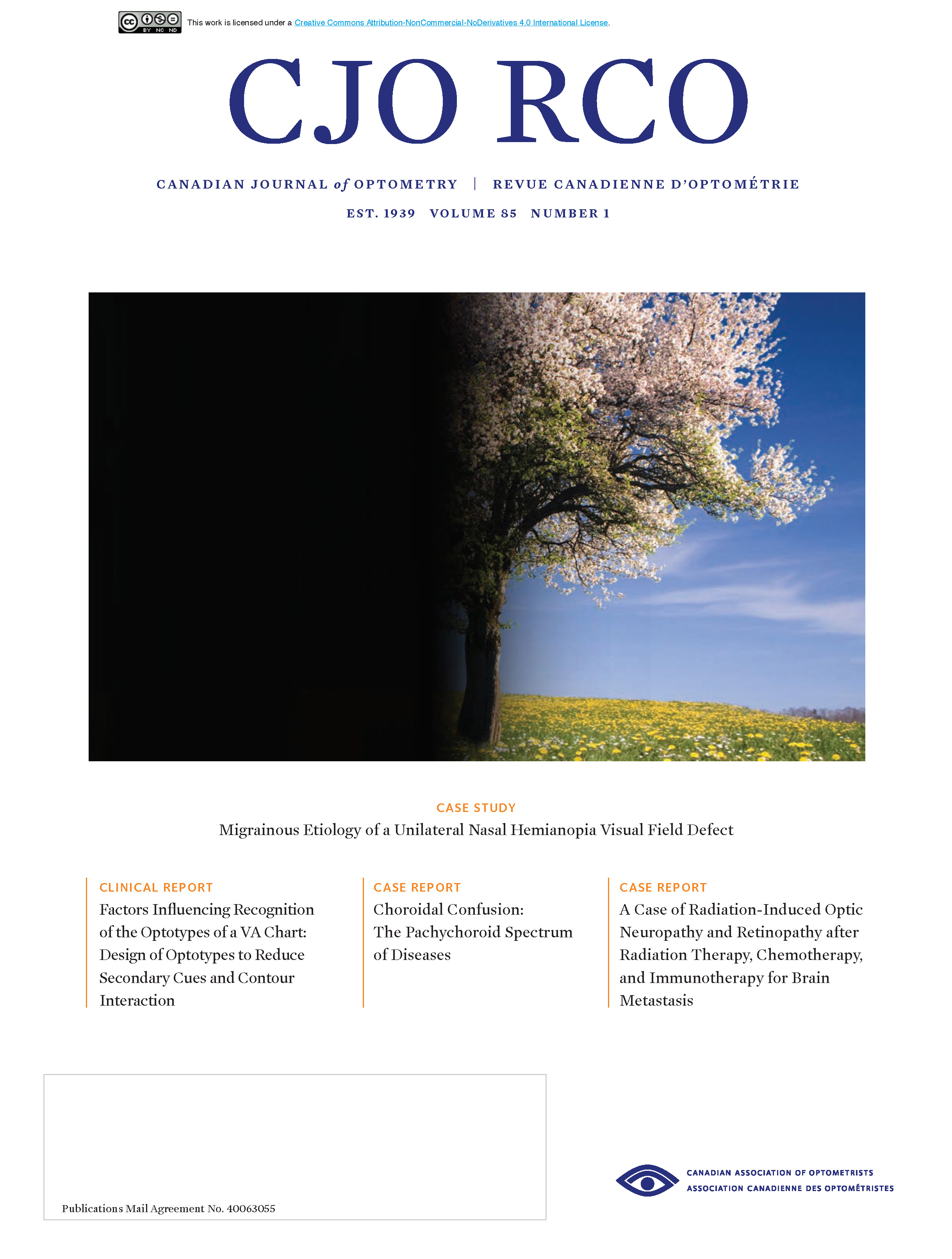 Downloads
How to Cite
Shapiro, J. (2023). Facteurs influant sur la reconnaissance des optotypes du tableau d'examen d'acuité visuelle Conception d'optotypes pour réduire les indices secondaires et l'interaction de contour. Canadian Journal of Optometry, 85(1), 35–47. Retrieved from https://openjournals.uwaterloo.ca/index.php/cjo/article/view/5282
Section
Clinical Research
License
Copyright (c) 2023 Jonathan Shapiro
This work is licensed under a Creative Commons Attribution-NonCommercial-NoDerivatives 4.0 International License.