Guide de pratique clinique fondé sur des données probantes pour l'examen périodique de la vue chez les enfants de 0 à 5 ans au Canada
Walter Delpero, MD FRCSC

Barbara Robinson, OD MPH PhD FAAO

Rhona Lahey

Canadian Association of Optometrists
Keywords:
amblyopie, enfants, guide de pratique clinique, examen complet de la vue, nourrissons, examen périodique de la vue, soins de première ligne, erreur de réfraction, strabisme, dépistage des troubles de la vue
Abstract
Le dépistage de la vue effectué chez les bébés et les enfants par les fournisseurs de soins de première ligne au cours des consultations de routine et des vaccinations périodiques est un élément essentiel de la détection des maladies oculaires. Toutefois, le potentiel de détection précoce est limité et un examen oculovisuel complet est également recommandé avant que l'enfant n'entre à l'école. Si l'amblyopie, le strabisme ou une autre pathologie oculaire est détecté ou soupçonné, et que le problème dépasse le champ de compétences du professionnel qui examine le patient, celui-ci peut être dirigé vers le spécialiste approprié, ce qui permet d'amorcer le traitement en temps opportun.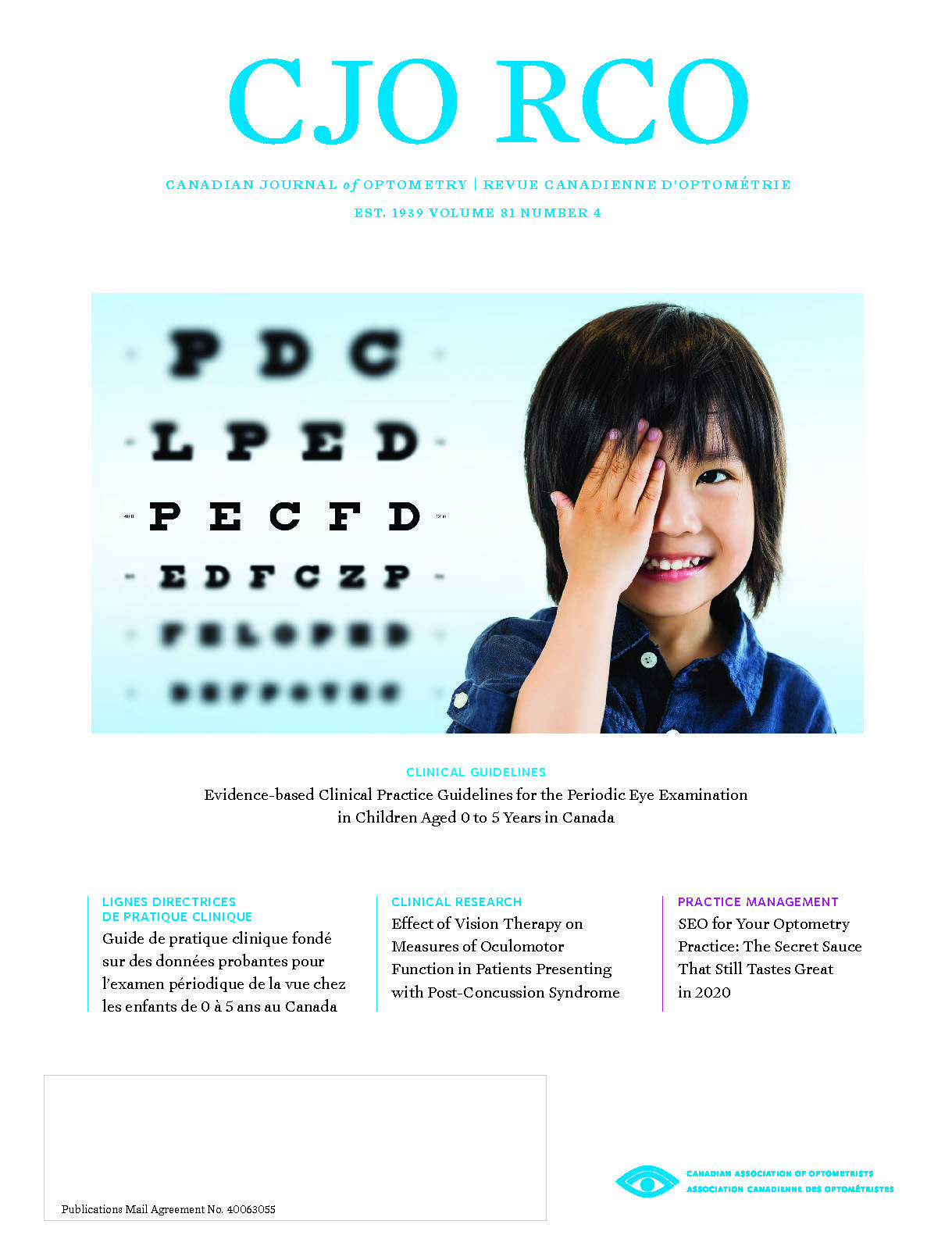 How to Cite
Delpero, W., Robinson, B., & Lahey, R. (2019). Guide de pratique clinique fondé sur des données probantes pour l'examen périodique de la vue chez les enfants de 0 à 5 ans au Canada. Canadian Journal of Optometry, 81(4), 37-50. https://doi.org/10.15353/cjo.v81i4.1558
Copyright (c) 2019 Walter Delpero, MD FRCSC, Barbara Robinson, OD MPH PhD FAAO
This work is licensed under a Creative Commons Attribution-NonCommercial-NoDerivatives 4.0 International License.